Article: Revealed: Telling Our Story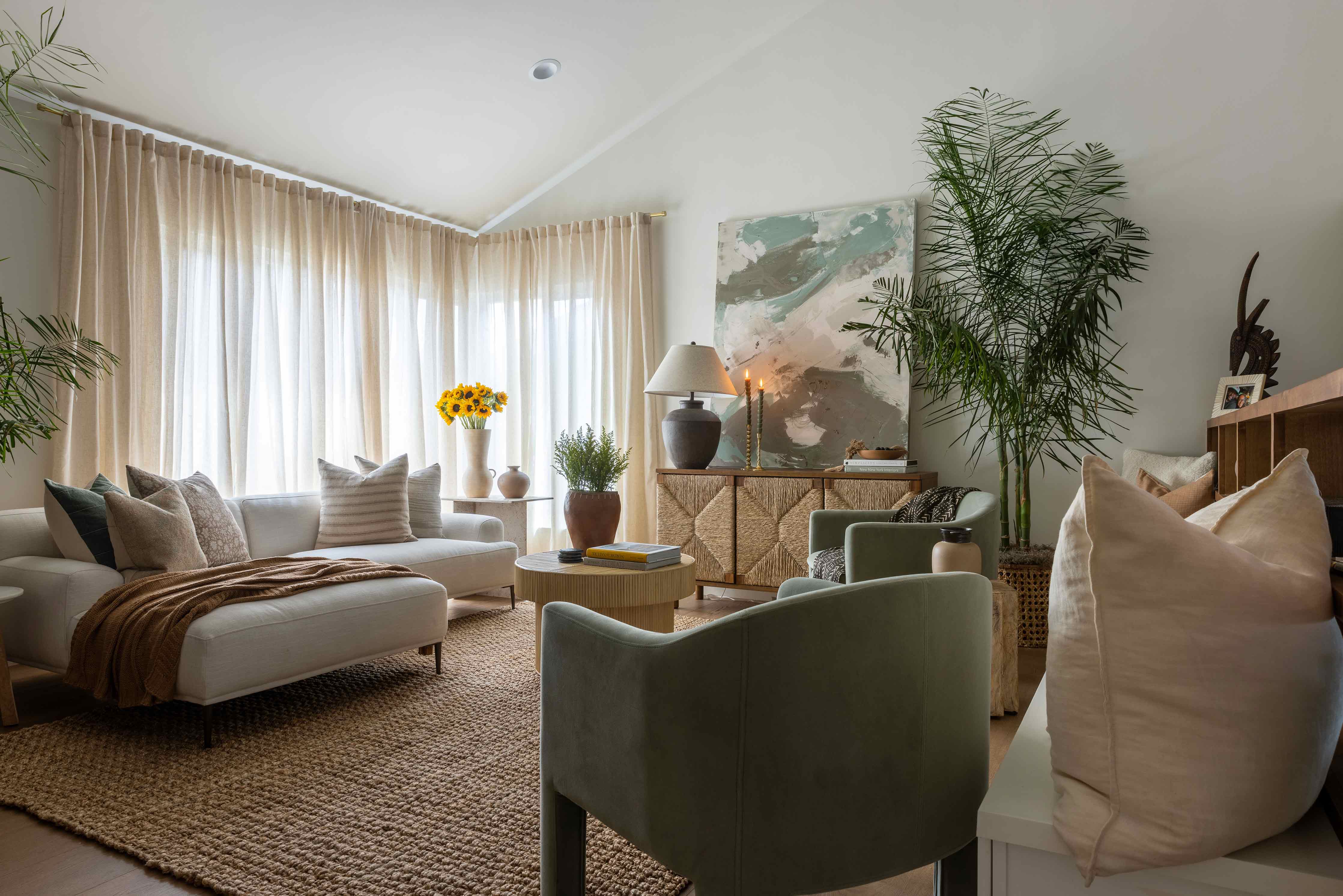 Revealed: Telling Our Story
THE FAMILY
Malaika & Ken love to travel and spend time with their two daughters. Their home is not only the place they spend their time but also the gathering spot for both of their extended families.
DESIGN STYLE: MODERN MINIMALIST BOHO
PERSONAL STYLE: MALAIKA & KEN DESCRIBE THEMSELVES AS CASUAL AND SLIGHTLY BOHEMIAN. THEY HAVE COINED THE TERM "MINI BOHO" TO DESCRIBE THEIR MINIMALIST BOHO STYLE.
FAVORITE COLORS / FINISHES: GREEN, CREAMS, NEUTRALS, TAN, GREY, BLACK
LEAST FAVORITE COLORS: PINK, ORANGE, BRIGHT YELLOW
---
living room
shop the look
---
dining room
shop the look
---
kitchen
shop the look
---
den
shop the look
---
paint & materials
living room & dining room
kitchen
den
---
the art
Malaika and Ken wanted their culture to be celebrated throughout their home. It was important to embody and embrace their roots in the design. The artwork for the gallery wall was collected from Black artists across the US. The design was intended to represent history, heritage and family.
FEATURED ARTISTS:
---
veronica's heirloom project
Veronica wanted to create a bronze sculpture that is inspired by the Benin Bronzes, which are sculptures that serve as historical records of the West African Kingdom of Benin, to honor their story. Her vision was to include Malaika and Ken with their daughters on either side to represent joyful moments. The tree like symbol was added to represent growth and roots.
---
tommy's design feature
Tommy wanted the tile of the fireplace to have an ode to the modern minimalist style Malaika and Ken love. Since the kids spend most of their time in this space, it was important to design a stylish floor to ceiling storage solution. The high-contrast design feature was meant to add a cozy and more moody vibe.
---
josh's artist feature
Josh incorporated designs from art and fabric that were specific to Malaika's and Ken's ancestral Country. He created a custom and unique piece to symbolize both sides of the family's history. The overall purpose of his design was to bring in cultural pride and beautiful details that can be enjoyed daily by the entire family.
---